Here you will find an excerpt of the products stored at the Heidweiler site. In the following you will find our product categories, please select the desired one to get the suitable products displayed. If a product meets your expectations, you will find further information about the product on the corresponding product detail page, where you also have the option of requesting a non-binding offer. Of course, you can also pick up the goods immediately on site.
Contact & Opening hours
O-METALL Dach & Wand GmbH
Industrial area Im Phuhl 1
D-54518 Heidweiler
Phone: +49 6508 8544020
Opening hours: monday - friday 08:00 - 12:00 & 13:00 - 17:00
More about our warehouse Heidweiler
We are happy to welcome you to the website of our warehouse in Heidweiler/Naurath (Eifel) in the middle of the beautiful Meulenwald! Our largest warehouse to date is located on an area of just under 100,000m2 on a former Bundeswehr site.
Thanks to the central location between Bitburg, Daun, Idar-Oberstein, Prüm, Trier and Wittlich, our warehouse is easy and convenient to reach within a large radius. From Bitburg and Prüm you can reach us via the A60 motorway, exit Spangdahlem, from Trier via Quint (L46) and from Koblenz and Wittlich via the A1 motorway, exit Föhren. Please note that our warehouse is located outside the village of Heidweiler, just under one kilometre west of the village of Naurath (Eifel).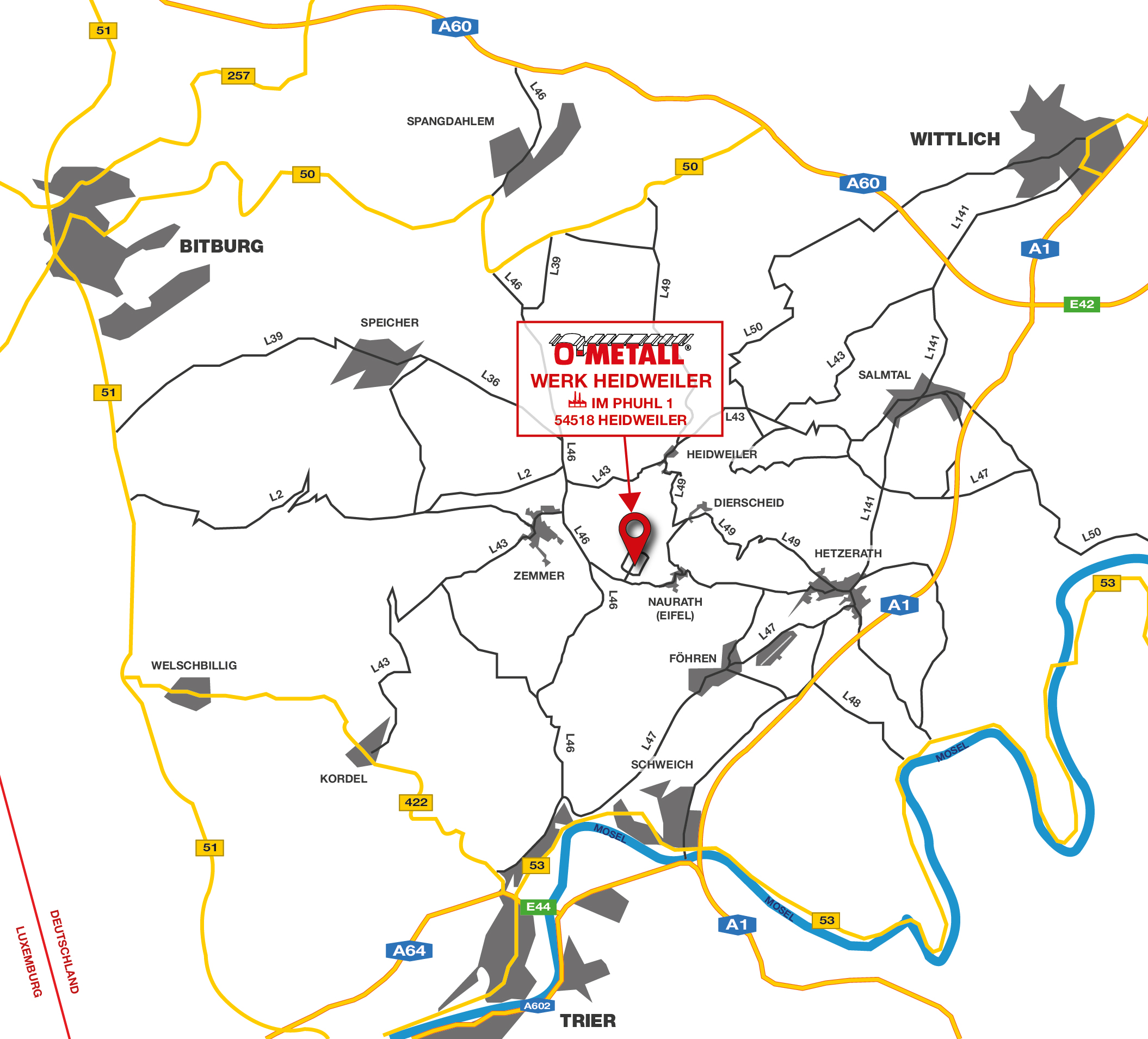 Our warehouse is easily accessible and offers sufficient parking spaces so that you can pick up your goods quickly and conveniently. You also have the option of placing your order in advance by e-mail to keep waiting times on site to a minimum. Of course, we are also happy to deliver all items to your desired address. Our warehouse offers a large selection of our inexpensive and immediately available products such as trapezoidal sheets, sandwich panels, flashings as well as translucent sheets in various sizes, materials and colours. In addition, you will find fasteners, tools, profile fillers, repair paints, varnishes, sealants, construction profiles and much more in our large range of accessories. Our products are ideally suited for the construction of roofs, walls and facades in industrial, agricultural and private projects.
Do you need help choosing the right product?
Our experienced and friendly team will be happy to answer any questions you may have about our products and assist you in selecting the right products for your project. You can contact us on site, by email or phone. You also have the option of requesting a non-binding offer for your products of choice online. Why not visit us and convince yourself of our wide range of trapezoidal sheets and sandwich elements.
We look forward to welcoming you to our warehouse soon!